Model DC9 KLM in 1:72 and 1:105 scales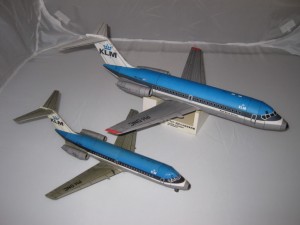 This is my first attempt to repaint and reconstruct parts of paper model DC9 in KLM livery of the 1970s (see video in top window).
This model designed by Leon Schuijt.
I added marks, changed shape of the windows, removed differences in color of parts.
Parts were printed by inkjet printer on cardstock paper A3 format.
The scale is 1:72.
When printing on A4 format the scale will be approximately 1:105.
After printing, every part has been impregnated with one layer varnish.
The model can be assembled in three evenings.
You may download the archive with parts and instruction of the DC9 KLM paper model in the Links.