Boeing 777-300ER by Canon in a livery JAL. Scale: 1:72.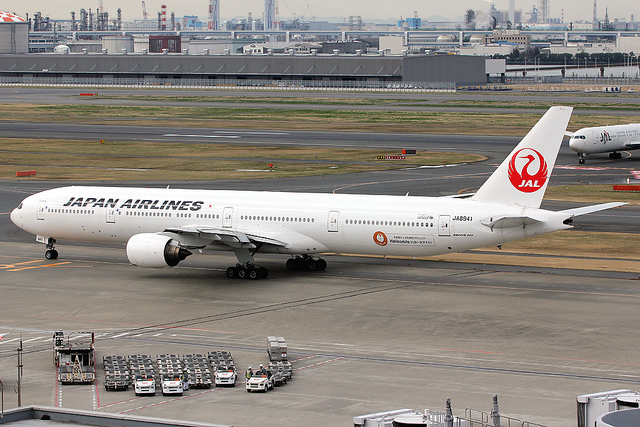 The model Boing-777-300 in a livery Air India designed by the known Japanese master of K.Kiyonaga is familiar to many fans of paper airliners. In spite of the fact that the model has a number of discrepancies and a little simplified detailing, it easily gathers and not bad looks in finished form. Besides, provides quite ample opportunities for further completion and "disguise", than the author and decided to be engaged.
As prototype for rebeauty JA8941 board which photos can be looked, for example, here.
Besides actually rebeauty, many corrections were brought in initial development and additions: the form of windows and luggage doors is changed, headlights, a tail crutch, a fairing of mechanization of flaps and some more fine details are added.
For check test assembly of nasal and tail sections of a fuselage was executed. Its result showed quite satisfactory convergence of inscriptions and detailing elements: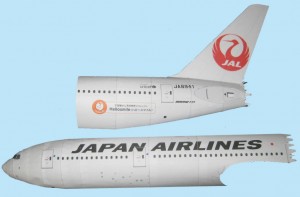 I plan to build this model on the scale of 1:72, having printed on an A3 format matt paper. For this purpose certainly it is necessary to change an arrangement of details on sheets in comparison with the original. The sizes of future model in the chosen scale will appear quite impressive – approximately 1м x 1м!
You may download the parts and assembly instructions 
here.
All parts has printed  on matt paper of format А3, than has coated with one layer varnish. For two evenings has assambled a nose part of a fuselage in length about 35 sm. For strength I insert in section of a fuselage additional bulkheads. In nose section has mounted a bolt as a ballast since I plan to build this model with landing gears. For concept about the sizes of model has made pair pictures on a background of a ruler (30см) and a finger-type battery of size ААА:
Continued to build the fuselage, added covers air intakes. The length of the fuselage is assembled almost 57 cm:
 Assembled central fuselage. Length has increased to 65 cm:
I added next section. The length of fuselage increased up to 72 cm. In the last photo the Boeing 777 along with the unfinished Li-2 (soviet license of DC-3) (scale 1:48):
After a two-month break, I decided to complete the assembly of the fuselage. Added two formers and exhaust nozzle of APU  in the tail. Fuselage length was 103.5 cm (about 41 inches).
 Continued to build: assembled tail unit, stand, and the right wing.
Детские комнаты для мальчиков и девочек на
http://banya-gid.ru/
Купить детскую комнату в интернет магазине
21 Responses to Boeing 777-300ER by Canon in a livery JAL. Scale: 1:72.