Boeing 747-100 in Braniff Airways livery.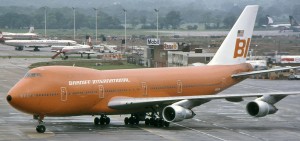 One of my friends, Euard Tril (edison), took parts Boeing 747-100 SCA, are made by  Richard De Vries from Amsterdam, and repainted in the livery of Braniff Airways – one of the largest airlines of their time. Richard De Vries based from the Boeing 747-400 BA papercraft  on Canon website (by K.Kiyonaga) to design the  SCA.
I'm just helped a little with repainting of the joint strips, common design and increasing parts into 1: 100 scale.
As the prototype was chosen board N601BN:
Here are a few sheets of repainted parts:
Archive with parts of the model of Boeing 747-100 in Braniff Airways livery . Scale 1:100.
The file size – 6 MB.
Download assembly instructions can be on the Canon website.
Pictures of the building process of this model in flight mode (without gears) kindly provided my friend Oleg Botwinko (19BON72).