Boeing 777-300ER in new Nordwind Airlines livery. Scale 1:120.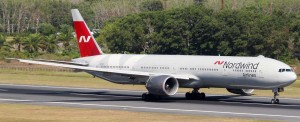 At the request of my friend Yuri, pilot and aircraft modeler, parts of  Boeing 777-300ER in 1:120 scale were painted in the "Nordwind Airlines" new livery. The Boeing 777-200 papercraft in the old Nordwind Airlines livery can be viewed here.
As the prototype was chosen board VP-BJP:
Here are a few sheets of repainted parts:
Download paper model Boeing 777-300ER by Canon in new Nordwind Airlines livery  in Links section.